So I'm not sure if the rest of the world is aware of what's going on with Christians in India. Basically with the new government in power, a government that espouses a 'Hindutva' ideology, that believes India is for the Hindus, and Muslims and Christians are outsiders, a lot of crazy things are beginning to happen.
Churches are being attacked,
Christian converts and Muslims (possibly) coerced into re converting to Hinduism*
, a lot of political and religious leaders are feeling free to make their opinions known:
'Our target is to make India a Hindu Rashtra by 2021. The Muslims and Christians don't have any right to stay here. So they would either be converted to Hinduism or forced to run away from here'
, and both Christians and Muslims are feeling increasing insecure in our
supposedly secular
nation.
The shocker yesterday was when the Christian community in Delhi peacefully marched to protest the attacks and to demand that the government do something to protect the Christian community. Protests and marches are consitutional- we have 'the right to assemble peaceably without arms' as long as we are not threatening public order. But guess what happened to our peaceful protesters?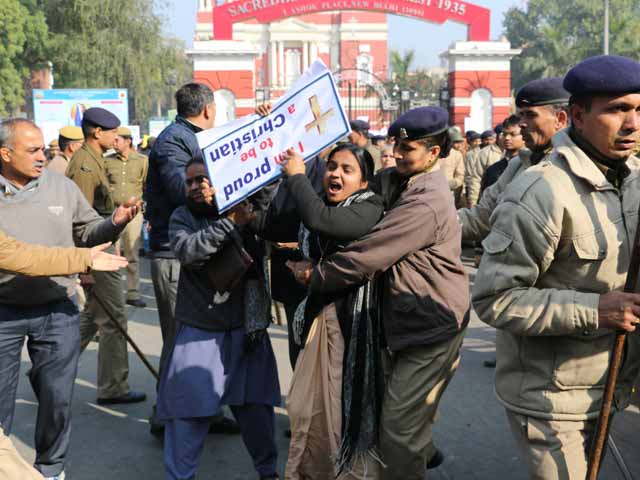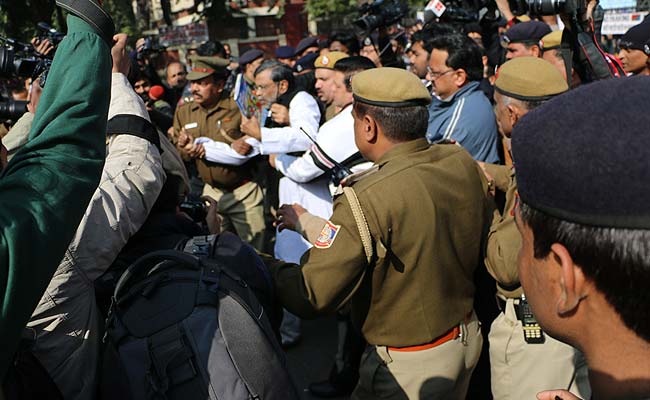 Police arrested hundreds, pushed them on to buses, and detained them at a local police station.
Priests, nuns, and even children were dragged forcibly on to the buses, some said they were beaten with batons. At a peaceful protest! How is this happening?
The main thing I guess Christians are afraid of is not that the government itself will target Christians, but that they will turn a blind eye while the crazies do.
So, now what do we do? How do we respond?
Looking at comments on various FB posts, and from questions and comments I've overheard from my people in my own own parish, I can sense the anger and frustration of many Christians. Some suggest that the reason we are being attacked is because of our 'turn the other cheek' reaction. Many seem very insecure, nervous and defensive. We've lived fairly comfortably for so long, and we are not sure how to react to all this.
Here are some thoughts:
It is very possible and likely that the situation will get worse:
We always feel like 'Oh, it couldn't happen to US!' But why wouldn't it? People are oppressed and treated unfairly all over the world. Christians have been persecuted for centuries, and still are in many countries. In India it has already
been happening in other states
. Just because it SHOULDN'T doesn't mean it WON'T.
That doesn't mean we need to freak out:
Jesus said, "Remember the word that I said to you, "Servants are not greater than their master. If they persecuted me, they will persecute you; if they kept my word, they will keep yours also. But they will do all these things to you on account of my name, because they do not know him who sent me." John 15: 20-21
If we REALLY believe what we say we do, then our churches being burnt,or even being in physical and bodily danger is NOT THE END OF THE WORLD. Literally. The first reading a week ago was:
Remember the days past when, after you had been enlightened,
you endured a great contest of suffering.
At times you were publicly exposed to abuse and affliction;
at other times you associated yourselves with those so treated.
You even joined in the sufferings of those in prison
and joyfully accepted the confiscation of your property,
knowing that you had a better and lasting possession.
Hebrews 10: 32-34
Our churches are not our greatest possession- Jesus Christ is, and NO ONE can take Him away from us.
The strength of the Christian community is not lashing back:
How beautiful a witness to see that Christians are the only community in India who can be attacked and the country does NOT break into riots in a few hours. That does NOT happen in any other scenario. That is not a weakness but a strength! It takes much greater strength to control our fallen human instinct for revenge. 'There is a lot worth dying for, there is not much worth killing for.'
That DOESN'T mean we should sit back
and say 'That's the way it is'. Don't just scroll past the FB news posts and move on to the next funny cat video. We do need to fight against injustice... PEACEFULLY! Our call to forgiveness to does not excuse our responsibility to fight for a just society. We need to do SOMETHING! Fast and pray! Blog! Create awareness! Speak up! Talk to our leaders and demand change! Join protests! I was happy to hear that MORE protests were being organized in other parts of the country even after.. no
especially
after.. hearing what happened in Delhi.
But even when we fight, we need to fight by LOVING our enemies!
Are we praying for the leaders of the political groups who hate us? Not just 'God destroy them and protect us', but 'God, change them! Let them know Your love! They are sinners in need of grace, just like we are' (and meaning it). Our enemies are not flesh and blood! Do not be overcome by evil, but overcome evil with good.
From my favourite article ever:
The Winning Strategy
by Peter Kreeft:
Our enemies are not anti-Catholic bigots who want to crucify us. They are the ones we're trying to save. They are our patients, not our disease. Our word for them is Christ's: "Father, forgive them, for they know not what they do." We say this of the Chinese communist totalitarians who imprison and persecute Catholics, and to the Sudanese Muslim terrorists who enslave and murder Catholics. They are not our enemies, they are our patients. We are Christ's nurses. The patients think the nurses are their enemies, but the nurses know better.
Let's not isolate ourselves or demonize anyone who isn't Christian:
It isn't 'those Hindus' or 'those Muslims' versus 'us Christians'. We ALL know good and wonderful human beings of every religion- we have wonderful friends, warm neighbourhood aunties, friendly shopkeepers, most of whom are from Hindu or Muslim families. Not every Hindu buys into 'Hindutva'.
Don't be afraid, the ultimate victory has already been won.
Says Jesus, 'In the world you face persecution. But take courage; I have conquered the world!' We're all going to die sometime, yeah? We cannot go through our lives oppressed by a spirit of fear. Let's joyfully and courageously continue to follow Christ, to be faithful to what He asks, to witness His love and mercy to our oppressors, and to love our country and our fellow-Indians no matter what happens. Remember
Gladys Staines
?
God WILL bring good from evil:
That's his specialty.'The blood of the martyrs is the seed of the Church'. Maybe it's a chance for many of us Catholics to re-examine our faith and decide if it really worth making sacrifices for. Is it only our westernized surnames and family traditions that make us Catholic? Time to dive a little deeper.
The Archbishop of Delhi says on the
Archdiocese's website
:
Martyrdom which means "witnessing" is the daily life of the Christian Community individually and collectively. May be God sends such situations in our life to wake us up from our complacencies and make us aware of our Christian vocation and our primary mission and identity in this world. We are fully founded on Christ's promise to us: "I am with you always until the end of this world".
The Christian response to persecution is kind of confusing, except in the light of Christ and His teaching. 'We proclaim Christ crucified, a stumbling-block to Jews and foolishness to Gentiles, but to those who are the called, both Jews and Greeks, Christ the power of God and the wisdom of God. For God's foolishness is wiser than human wisdom, and God's weakness is stronger than human strength'1 Corinthians 1: 23- 25
*If anyone freely chooses to re-convert to Hinduism, that shouldn't be an issue for anyone, but it's very likely that it is not a free choice, but one of a mixture of bribery and coercion, with bribes offered if they convert, and threats if they don't.